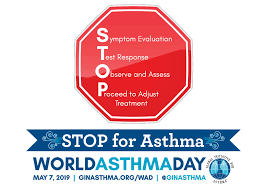 07 May

WORLD Asthma Day 2019 – MAY 7th

Today marks the annual World Asthma Day, organised by the Global Initiative for Asthma (GINA), aimed at improving asthma awareness and care around the world.

Asthma is highly prevalent in Australia with an estimated 2.7 million people affected. It's more common in males aged 0–14, but among those aged 15 and over, asthma is more common in females. Unfortunately only 21% of people aged 15 and over have a written asthma action plan and only 57% of children (under 15) have an asthma action plan. Everyone with asthma should have a written asthma action plan which they adhere to stringently.

The estimated cost of asthma in Australia in 2015 was $28 Billion. This equates to $11,740 per person with asthma and includes;
$24.7 Billion attributed to disability and premature death,
$1.2 Billion on healthcare costs (including medication, hospital and out-of-hospital costs),
$1.1 Billion in loss of productivity
$72.9 Million in loss of wages for carers, and
$289.4 Million in income support for carers of people with asthma
There were 39,500 hospitalisations in 2014-15 where asthma was the main diagnosis (171 per 100,000 population). Children under 15 are more likely to be hospitalised with asthma (451 per 100,000 population) than those aged 15 and over.
People with asthma are more likely to report a poor quality of life, especially those with severe or poorly controlled asthma.
34% of people report that asthma interferes with their daily living, and 21.8% of people aged 15-25 required time off work, school or study due to their asthma.
There were 441 deaths due to asthma in 2017. Asthma mortality rates are higher for people living in remote or lower socioeconomic areas, and for Indigenous Australians.
Sources:
www.asthmaaustralia.org.au/national/about-asthma/what-is-asthma/statistics
For more detailed information regarding Asthma, visit:
https://www.aihw.gov.au/reports-data/health-conditions-disability-deaths/chronic-respiratory-conditions/overview