27 Jun

Australia-wide flu cases skyrocket to highest rate in recent years

Australia is currently in the grips of one it's worst flu years in recent memory and while we are well into the official winter flu-season, it appears the worst may be yet to come. Each state has recorded a surge in influenza and influenza-like illness cases since the start of the year and data from the Australian Influenza Surveillance Report show that cases are still on the rise.

To date this year, the National Notifiable Diseases Surveillance System has recorded 93,090 notifications of laboratory-confirmed influenza Australia-wide. The past fortnight has seen an increase in influenza cases in New South Wales, Victoria, ACT and Western Australia.  Queensland has not been spared this season with 18, 583 laboratory-confirmed cases since the start of the year. In fact, in the week from 17 June-23 June Queensland recorded 1878 new confirmed influenza cases. Of the total cases recorded in QLD 16,419 were Influenza A, however it is not immediately clear which strains are circulating as 14,772 cases have an unidentifiable subtype.  A total of 1267 hospital admissions recorded in QLD with 120 ICU admissions. Queensland Health have allocated approximately $3.5 million to provide a further 5,000 hospital night stay in both public and private facilities to ease pressure on the system.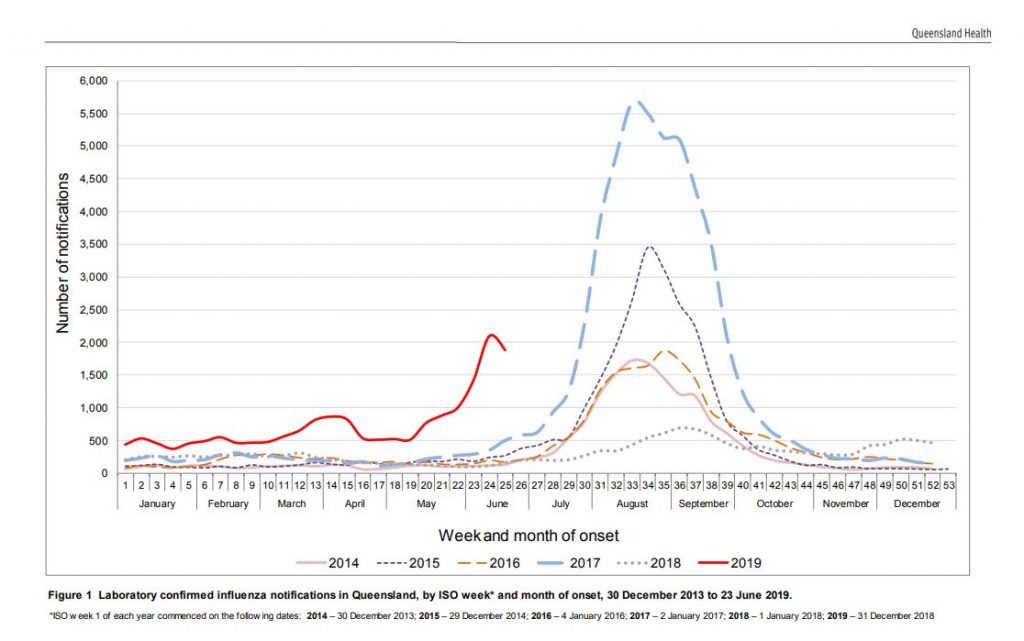 The above graph can be found here: https://www.health.qld.gov.au/__data/assets/pdf_file/0037/835588/influenza-qld-2019.pdf
With such high rates of influenza it's critical that patients are vaccinated as soon as possible. This is especially important for at-risk groups such as young children, pregnant women and the elderly. The importance of vaccination is displayed in 2018 figures with recipients of the flu vaccine 68% less likely to present to their GP because of influenza and 58% less likely to present to hospital because of influenza when compared with unvaccinated individuals.
More information on this topic can be found by following these links:
https://www.abc.net.au/news/2019-06-21/queensland-flu-season-turns-deadly/11234748
https://www.health.gov.au/internet/main/publishing.nsf/Content/cda-surveil-ozflu-flucurr.htm
https://www.ausdoc.com.au/therapy-update/gps-guide-seasons-influenza-vaccines?mkt_tok=eyJpIjoiTlRobFptVmpaRFk1TVRCayIsInQiOiI1SVZIdmpYNmc0NUdXd2pjcmhoQ1VyY1Ziczd4T1BaRVwvVGlOcEZNNmJTQktoYVwvTjJPUTJScmhiMkZIaFwvcGVhSkJrMWxVcHZvbnkwTHcxeVNjbENqT1RXRWFpZTNHYXladVZBZmd4d2Y2c2NxRlBpcGIrTFRocHJ5KzFPRVZPdiJ9
https://beta.health.gov.au/resources/publications/atagi-advice-on-seasonal-influenza-vaccines-in-2019
https://www.tga.gov.au/alert/2019-seasonal-influenza-vaccines
https://immunisationhandbook.health.gov.au/vaccine-preventable-diseases/influenza-flu
https://www.health.gov.au/internet/main/publishing.nsf/Content/cda-surveil-ozflu-flucurr.htm