DO YOU HAVE TROUBLE SLEEPING AT NIGHT? 
DOES THIS AFFECT YOUR DAILY LIFE?
Insomnia affects many different people. Sometimes people experience insomnia due to work or relationship stress, a noisy neighbour or temporary pain. This is not something of concern, however when insomnia lasts beyond these temporary causes, it is time to investigate the problem a little further.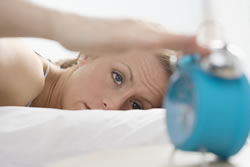 Insomnia is the inability to initiate or maintain sleep and is the most commonly reported sleep disorder in the western world. Approximately one third of people will suffer from insomnia at one stage of their life.
The word insomnia is derived from the greek 'in' meaning absence and 'somno' meaning sleep.
People suffering from insomnia commonly report:
Trouble falling asleep, which is called Sleep Onset Insomnia, or
Trouble staying asleep, called Sleep Maintenance Insomnia
There are many  factors which can have a negative impact on your sleep and be a cause for insomnia.
Below is listed some of the causes that may be affecting you.
ANXIETY
Feeling a heightened sense of worry, tension, fear, uncertainty, apprehension and helplessness.
STRESS
How well you cope with any emotional, social, economic, physical or other factors.
DEPRESSION
Feelings of despair, sadness and discouragement.
ENVIRONMENTAL OR TEMPORARY CAUSES
ADJUSTMENT SLEEP DISORDER
This is when reaction to a life change or stress is causing sleeplessness. It is commonly referred to as 'tossing and turning'.
OTHER TEMPORARY FACTORS:
Jet Lag
Shift work
Medication side-effects
Overuse of Caffeine or Alcohol
Excessive noise, extreme temperatures or a change in surroundings.
Remember… insomnia can be an indication of an undiagnosed medical or psychological condition. If insomnia persists for more than a few weeks, ask your GP for a referral for a diagnostic sleep study.
MEDICAL CONDITIONS
Conditions such as allergies, arthritis, asthma, heart disease, high blood pressure, hyperthyroidism, and Parkinson's disease can all affect your sleep quality.
HORMONE CHANGES IN WOMEN
Premenstrual syndrome, menstruation, pregnancy, and menopause can all be causes of insomnia.
DECREASED MELATONIN
Melatonin is the hormone that helps control your sleep and it decreases as a person ages. By age 60, the body produces minimal melatonin and therefore people experience poorer sleep as they age.
PAIN
Pain and discomfort from an injury or illness can often interfere with sleep.
GENETICS
It has been recorded that problems sleeping do tend to run in the family, however we still are yet to find out why.
SLEEP DISORDERS
Sleep disorders such as Obstructive Sleep Apnoea where you temporarily stop breathing during sleep or periodic arm and leg movements can often be the root of insomnia.
Treatment for insomnia varies greatly as it needs to refer to the cause of insomnia. Insomnia can be classed as primary or secondary.
If insomnia is the root condition, it is called primary insomnia and there are various methods of treatment:
cognitive behavioral therapy
exercise plan
diet plan
behavioral modification
environmental modification
sleep restriction therapy
Insomnia caused by another unrelated condition is called secondary insomnia and can usually be managed by treating the other condition.
Long term medication is not recommended for the treatment of insomnia
An easy and effective way for to identify problems with your sleep pattern is by keeping a sleep diary.
A sleep diary is filled out every night and every morning, and includes things such as your bed time, your rising time, meal times, snack times, exercise times, medications, nap periods and level of tiredness.
All these details are looked at closely by the sleep scientists and physicians to identify potential causes for your insomnia.
Download your sleep diary.
TIPS ON HOW TO SLEEP WELL…
There are some general guidelines that help promote good sleep.
Go to bed only when you are sleepy.
If you are unable to fall asleep after about 20 minute, get out of bed. Leave your bedroom and do something relaxing. Come back to bed only when you are sleepy.
Only use your bed for sleep, sex and to recover from illness.
Wake up at the same time every day, including weekends and holidays.
If you have trouble sleeping at night, avoid napping during the daytime. If you need to take a nap, make it less than one hour and take it before 3pm.
Begin rituals to help you relax before bedtime, such as taking a warm bath or reading for a few minutes.
Exercise on a regular basis, but do it earlier in the day.
Maintain a regular daily schedule to keep your brain's internal clock running smoothly.
Eat a light snack before bedtime, but avoid a big meal.
Avoid caffeine, alcohol and cigarettes late in the day.
Set aside time during the day to get all of your worries out of your system.
Avoid sleeping pills or use them cautiously under the supervision of a doctor.
Never drink alcohol while taking sleeping pills or other medications.
Talk to your doctor or a sleep specialist if you have an ongoing problem related to your sleep.
[latest_post type="boxes" number_of_colums="4″ display_time="0″ display_comments="0″]